Step 1. Please keep the buzzer be turned off, show as the following picture: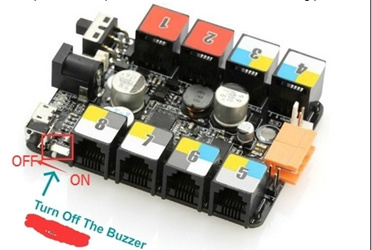 Step 2. Reset default program via mBlock, as follows:
Download the latest mBlcok software in this link and decompress it: http://learn.makeblock.com/software/
Power off the Starter robot and connect it to PC with USB cable:

Install the mBlock software and open it, then choose the Me Orion under Board:

Choose the correct Serial port of Starter Robot under Connect -> Serial Port: (Here my Starter Robot's serial port is COM4, and you can check your Starter Robot serial port under your computer's Device Manager->Ports (COM&LPT))


Then choose the factory program for your device by going to Connect->Reset Default Program->Starter, then Close when it shows Upload Finish.

Step 3. After reset default program, please pull out the USB cable, power on the device and you can drive it through remote control. (For Bluetooth version, you can drive it with Bluetooth connection through the Makeblock APP)
If your PC is Mac:
Please download the latest version mBlock for Mac, after you install the mBlock software, you need install the driver on Mac:
If your Mac os is below mac os sierra, here is the link to download the driver.
If it is Mac os sierra, please download and install this driver.
If it is Mac os high sierra, here is the link to download the driver.
Besides, when choose Serial port under Connect->Serial Port, please choose port similar to /dev/tty.wchusbserial1410.