Hello, my wife and I bought our 10 year old a Makeblock Starter Kit IR version for her birthday and I am having serious trouble making anything work.
I have a MacBook running Sierra 10.12.2
I have mBlock version 3.4.5
I was able to connect the robot to mBlock and update firmware.
We have been trying to write code but none of it seems to work. We found a post in the forum about how to program using the remote, so we tried this: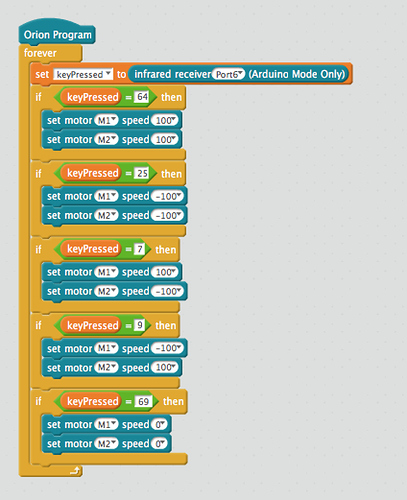 This is exactly the same as the post we looked at. We were able to download this program to the robot but it didn't work right. When we pushed forward it turned, or some of the buttons didn't work at all. Can someone please explain to me (pretend I am three so make the directions basic) why this doesn't work?
Also, can someone explain to me the boards option in Makeblock. I understand different robots have different boards. I thought the correct option for our robot was starter/ultimate(orion). Do I always need to use the Orion Program block before any program? Thank you for the help. I can't wait to finally understand the basics and get to more advanced stuff.