Difficult to explain: Here is the latch. It equals true when the condition is ok. However, it stops the flow of the sensors as long as the condition does not change state. From this example, once the temperature is higher than 30 degrees, the sensor signal will ignore until it goes down to other value (eg 25 degrees). There is a reset to reactivate the signal received by the sensors. With the reset, it is possible to use another sensor to reactivate the sensor reading which is ignore.
This new instruction would be very useful to me.
The statement remains true even if the toggle is false.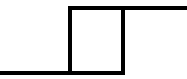 Otherwise an instruction that memorizes the state. So, it's true, the instruction fix true but the instruction ignores all except a false answer. When the temperature rises a second time, the instruction sends true.