I have a Me line follower array and want to learn to use it on my Auriga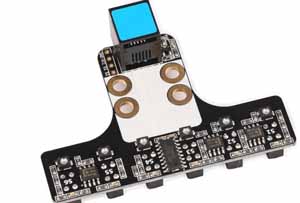 I am happy to start in Ardunio then once I figure it out I will make my own extension for it for my kids to use in Mblok5.
I open the sample program in Ardunio IDE and selected Mega2560 and correct port. I have the Me Line Follower Array plugged in to port 10 so I looked up the pin numbers for that port and they are A11 and A6 so I changed the DataPin from 2 to 11 then also tried 6. When I compile and upload it is successful and when I open a serial monitor it displays as expected but the reading is always 0 no matter whether it is over a black line or not. The blue lights on sensor do change depending upon line. What I am doing wrong??