Hi
I am using mBlock Blocky on Iphone 7 to drive a ranger:explorateur. French version.
(there is a wrong translation on 4.7 it is written "tourner à gauche", the right translation is "tourner à droite", otherwise the validation to the next steps is blocked)
My problem :
I am training with tutorial 6 - conditions
Level 6.2. is asking us to test the sound sensor : Ranger goes forward, and if a sound (clap with hands) is detected then stop the ranger. The solution is a 4 lines code :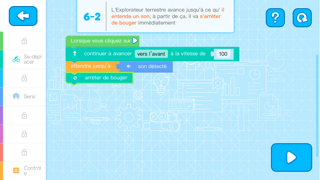 but when I launch the test and make a sound (clapping my hands) nothing happens (the ranger does not stop).
I do not know if there is a problem with the señor or the code or something else …
can you help ?
thanks
JMV