Hello,
I just bought mBot v1.1 (bluetooth version) and encounted a problem that Makeblock App (from both my ipad and Andorid cell phone) cannot control mBot.
The bluetooth connection between the mBot and my mobile equipment is okay. After the App recognized the mbot, it shows a message "Firmware Recovery - Please use PC version of mBlock to restore firmware". See figure.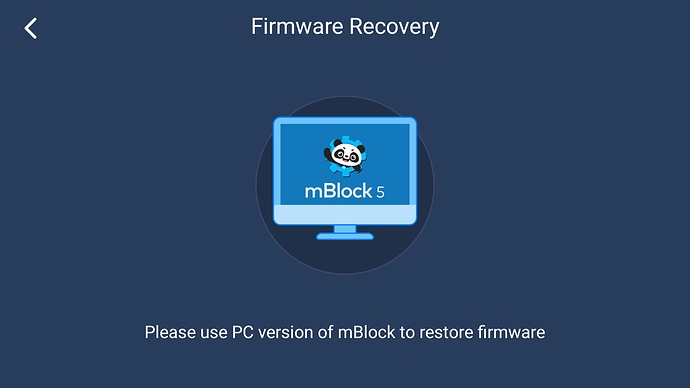 Then I used both mblock v5.2.0 (to do firmware updates using online firmware 06.01.107 and factory firmware 06.01.009) and mblock v3.3.1 (to do Reset Default Program and Upgrade Firmware) in a WIN 10 PC and the uploads were finished successfully. I did one by one and saw if any one can let the App control the mBot but in vain, and the above message appeared again and again. The USB connection is fine since I wrote a simple program to control mbot (using mblock) successfully via USB connection.
Please suggest how to fix it. Thanks.