Hi there. I am using extension JSV LCD V1 extension in MBlock5 to conect an 16x1 LCD display to Arduino uno.
I have checked the connection pin and the wires, the screen is on but no text is displayed. I don't know if the problem is that I have to download any kind of library to the computer in addition to install the extension directly in mblock. However, I've checked Mblock folder and inside ext/Arduino uno I can see no library.
This is a screenshot of the program I'm trying; even it is in Spanish I suppose it is clear enough for you.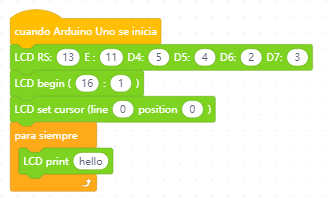 Thanks for your support