Laser cutting of Plexiglas is one of the most popular cutting services for this material. For work I use a WATTSAN 1610 laser machine with a Lasea F4 gas tube of 100 W (example of cutting plexiglas 3 mm).

Be careful! It is quite easy to cut this plastic, but it is also easy to damage it. Before cutting the Plexiglas, it must be secured so that the sheet is stationary. Any, even a slight shift of the material is a defect in the product, and the material is expensive enough to defect the product.
The blowing of the lens must be greatly reduced. How much? Blow on your finger as much as you can, remember the feeling, then put your finger under the laser head and adjust the airflow to get a similar feeling.
This measure is necessary to ensure that the edge of the piece you are cutting out stays mirror-like and doesn't go into a fine, muddy ripple. Sheets of acrylic are supplied in film on both sides. Without removing the films, we put it on the cut so as not to damage it.
The engraving is also done with a slight blow, just like the cutting, except for the contour engraving, it is done without blow. Before engraving, you must remove the film that is on the material.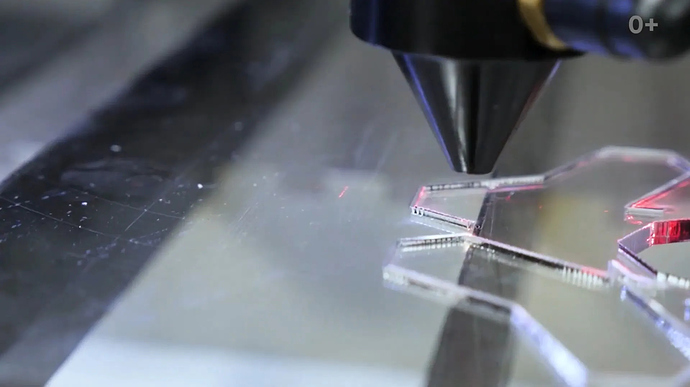 To the material does not appear soot, it is desirable to cover the surface before engraving with a thin layer of soapy water and wait for it to dry. After engraving the soap solution is removed and you get a surface without soot on the edges of the engraving.🧽
If soot does appear, there are several ways to remove it:

acetone. After engraving, wipe the places where the fouling has formed with acetone, but use it with caution, as prolonged exposure to acetone begins to dissolve acrylic and a whitish residue appears.
Never use alcohol, it causes small cracks that cannot be removed.

White Spirit. It is also suitable for removing soot from the material.

GOI paste. A small amount of Gauze paste is applied to the acrylic and polished, thereby restoring the acrylic surface.