Spent the day waiting for a delivery from a customer, so figured I'd do some 3D modelling while waiting

Below is a list of the Makeblock parts that I'm missing and would like to see as soon as possible.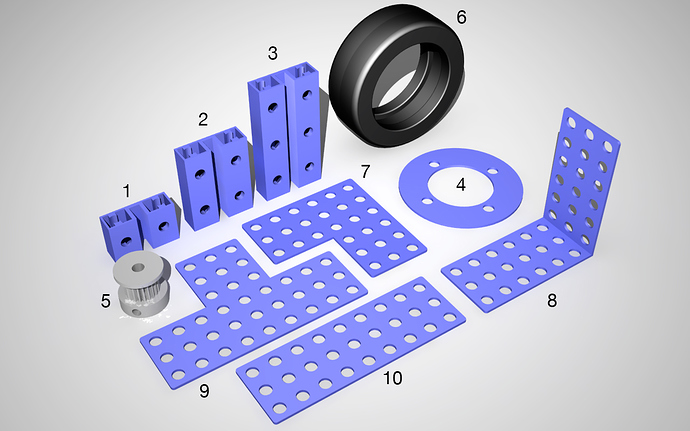 1-3 - These parts were suggested by user @Zephod and I'm all for it. If these parts existed, I would save a lot of time.
4 - For my current project I'm using belts and not having the Timing Pulley Slice's for the 62T wheel/gears is really annoying. This should also be made ASAP as it prevents me from making smaller, better looking solutions.
5 - The same goes for the Timing pulley. It's basically too small. The 18 tooth slips too easily and that's why 3D printers use 20 or more teeth in their pulleys. I would suggest making one that is bigger and has 22 tooth instead.
6 - Not having a rubber wheel for the 62t gear/wheel makes it difficult to make smaller robots.
7-10. The new 24 x 24 beams are great even though they could definitely have some more holes. There should also be some shorter lengths available. The current set of joining plates does not match well with these new beams, so I would suggest making these additional connector plates as well.
As you can see, these are all basic parts. Hope you'll consider to make these soon!